In the Choir Room, hangs a drawing of UMC Savage – a simple drawing made well before the Education Building (now called Fellowship Hall) was constructed. In late 2009, the drawing was removed from it's frame so the frame and glass cover could be cleaned and straightened in its frame.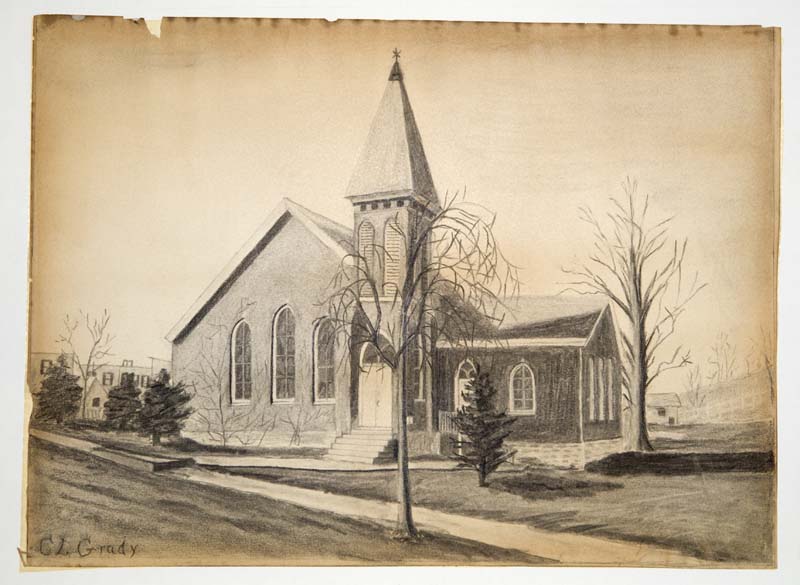 The drawing was carefully pulled from its frame and photographed. Concealed behind the mat, the artist's signature "C. L. Grady" was discovered.
Unfortunately, there was no date and the paper was too fragile to lift from the backing to see if there is a date.
To find out more about the drawing and the artist, a challenge was presented to Helen Rushing of the Savage Historical Society. Helen gladly took up the challenge. Besides the artists name, here are the other clues Helen had to work with.
1. It must predate the stained glass windows because the windows do not appear to be drawn as stained glass. The windows were installed in the mid-1940's.
2. It must predate the basement excavation since there is no apparent walk-up. The basement was hand dug by the men and Boy Scouts of Troop 424 in 1944.
3. The drawing was framed by "Effra, Inc., 4 Baltimore Street, Savage, Maryland
"
Note that addresses along Baltimore Street were renumbered effective March 15, 1971, according to the Howard County Office of Planning and Zoning. The address – #4 Baltimore Street- is eastbound on Baltimore, past Howard Street and around a slight curve and being the brick house on the right.
After several months of rigorous research, Helen reported the following:
"The C L Grady church drawing was done by a sister of Mrs. Alma Grady (sister's name believed to be Carrie) and was the property of Alma & William Grady of Savage and hung in their home for quite a while. It was later given to Louise Phelps, where it used to hang in her hallway. Then the source advised that Louise donated it to SUMC. It was also indicated that the original frame was replaced, so that may be why it was contained in an "Effra" frame. The Jones – Effie & Frank – were "EFFRA" probably in late 1940/50s operating at their home – 4 Baltimore Street, Savage, MD. History obtained from Sue Grady (daughter-in-law of Alma & William Grady) with the help of Mary Lou Spence. Unless I can find someone who knows Carrie's surname, I am considering the case closed."
Through the power of computers and image editing, here is what the drawing must have looked like before the paper yellowed.